I've been seeing them unfurling on the roadsides, spreading into great green ferns. I somehow missed the point when they are still tightly curled and edible.
Fiddleheads remind me of my paternal grandparents.
Specifically: ten years ago this spring, my parents and my little brother and I went to
Bethel
one Sunday to visit
Grammy and Grampy
. After lunch, my mum and Grammy stayed in while I went with the guys to pick fiddleheads. Grampy led us across the street to the farm his friends owned. We passed the house and the barn, following an overgrown path cleared by farm equipment to the great sweeping field. Squinting across the green, the field stretched perfectly flat until it met the foot of a strong gray-blue mountain.
I watched my dad and Grampy gathering the tight green coils into their folded paper bags. They looked so much the same- tall, serious and quiet, but warm, too. They stood and bent in the same manner, almost like watching a man and himself stand side-by-side, a comparison of his ages.
We went back to the house when Grampy grew tired. My dad held onto his arm as we slowly made our way back to the house, where Grammy cleaned the fiddleheads in the sink.
Grampy passed away later that summer, and Grammy followed him five years later.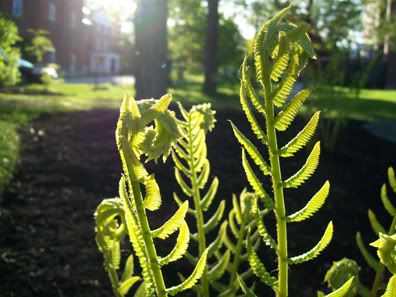 I see them in the glowing green fiddleheads.
.Photos by Courtney at Lake Andrews, Bates College, Lewiston, Maine.