Just in time for the upcoming Captive Elements show, I completed two new works.
This is "Spring Fawn"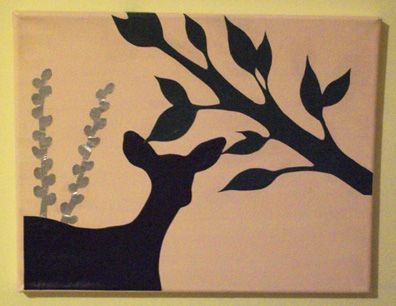 Acrylic paint, paper and aluminum foil on 11"x14" canvas.
Closeup of the pussy willows:
This entire piece was built around my random urge to make tin foil pussy willows, and it's too beautiful outside lately not to honor spring in art.
The second piece I finished is actually a commissioned work for a dear friend, and I'll post photos of it after I ship it to her. But first, it will be on display at this weekend's art show.
Come to the art show if you're in the area!
Sunday, April 19 from 5-9 pm
at Holly's Own Deli and Restaurant
84 Court Street (corner of the intersection at Court and Mechanincs Row/ Turner Street) in Auburn, Maine
Live music will be performed by Mike Krapovicky, and the bar will be open to complement Holly's free hors d'oeurves. The University of Southern Maine Leadership Program will be present, hosting a silent auction to benefit their campaign to Costa Rica.