I've begun my long dreamed-of postcard project, which is inspired by the music of matt pond PA. Because I can't NOT draw pictures in my head when I listen to their music.
(Please visit
http://mattpondpa.com
and
http://myspace.com/mattpondpa
)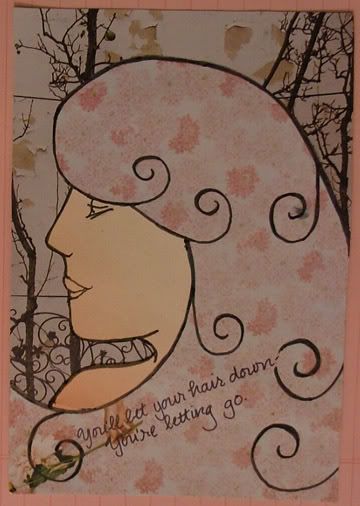 Close -up of the words:
"You'll let your hair down- You're letting go." From the song "Measure 1," which appears on the 2000 album
Measure
. Words by Matthew Pond, copyright matt pond PA 2000. Paper and ink collage by Courtney, copyright 2008 Quiet City.
Here's a shot of the my practice run next to the finished product:
I don't usually do such pink things, but I saw that pattern and had to use it for a pretty girl's hair.
I will be doing a total of 10-15 designs for this project, all incorporating words from matt pond PA songs from the earlier albums like
Measure
, up to their latest, 2007's
Last Light
. I'd like to thank Matthew Pond for supporting this project and sharing his own form of art with me (and you).
Please keep checking back here as I update with more designs. When the project is complete the postcards will be available to purchase in my Etsy store... which is opening soon.
You can also visit me on
MySpace
.
xoxo