When my son was very small, more like a newborn, I made up a silly song for him that would, under favorable circumstances, calm him down when he was fussy. I am pretty sure it had magical powers. My husband used it as his secret weapon when nothing else would work. The song is about how cute he is and in it I call him my bumblebee, which lead to his first nickname. For his first birthday, which was in the first week of this month, I made a bumblebee cake for his birthday. It was a zucchini cake recipe I found online and changed up a bit.
These are the delicious ingredients. I mashed the bananas and
then
remembered to take a picture.
Mashed, grated and measured.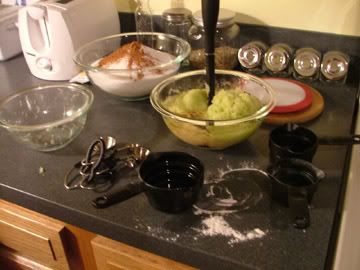 It made my kitchen smell like a little piece of heaven while it was baking. (I also poured out a little into a star-shaped cupcake mold for him to eat on his own.)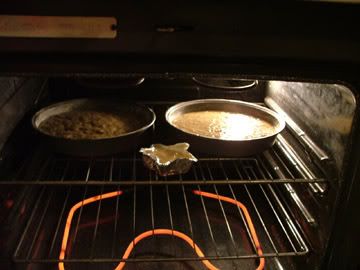 And here it is, in all of its fresh-baked goodness. I forgot to rotate the image in PhotoShop but. You get it.
Upon reviewing these pictures I realize I should improve my food-photographing skillz before I share them again.
The next day I cut down one of the circles and cut out a notch so it'd fit right next to the larger circle. That little notch became the wing, and the bee is decorated in vanilla frosting (gel dyed yellow) and licorice. As it turns out, licorice is nicely bendy but it prefers to lay straight, so the bee grimaced more than he smiled that day. Surely he knew of his fate. But he was cute, no?
The recipe as I used it:
2 1/2 cups grated, peeled, fresh zucchini
2 ripe bananas, mashed well
1 cup canola oil
3 cups flour
2 cups sugar
1 tsp. salt
1 tsp. soda
1 tsp. cinnamon
1 tsp. vanilla


"In medium sized mixing bowl, combine zucchini, bananas, oil, and vanilla. Stir well or beat with electric mixer if you want to be fancy. In large bowl, combine all remaining ingredients. Add wet mixture to dry, mix well. Pour into lightly greased and floured bundt pan. Bake at 350 for 45-60 minutes, until toothpick or knife inserted comes out clean. Let cool upright 15 minutes, then invert onto cooling rack. Allow to cool 30 minutes before tasting. Enjoy!" -http://theppk.com

I used the suggested quantities PLUS one half of every amount, so I could fill my two round cake pans and it cooked in less time.

It also calls for walnuts and chocolate chips, which I didn't add. Trust me, it was perfect the way it was. It would make an amazing bread, and I plan on using this exact recipe in the coming days to make (unfrosted) zucchini bread- I'll have to adjust the banana in it as it acts as the binder in this eggless recipe but I want it to taste less banana-y. Usually I use a baking soda/water mix for egg replacement.