This morning was my husband's turn to get out of bed first when our son woke up, and I slept for another two hours. Accidentally I assure you, as it was 11 a.m. by the time I got out of bed. I got up and joined my family in the living room, where our son was happy to see his mom was finally awake. Mr. Quiet City said to me, "There's something waiting for you in the kitchen." My face lit up. I knew what it was.
This box holds the beginning to my Quiet City future.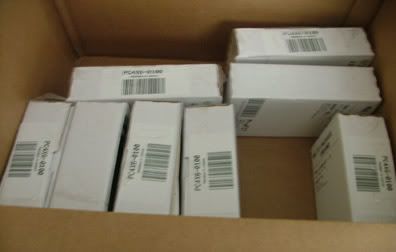 It holds more boxes, and in these boxes are postcards. Printed professionally and perfectly.
See?
Isn't it all so beautiful?
So you know what this means. My
Etsy
shop will be opening soon, and these postcards will be available for purchase. Then I will create more things- more stationery, plus things for your walls and things for your Christmas trees, and more more more.
PLEASE STAY TUNED HERE for my Etsy shop grand opening contest(s?) and tell all your friends. Big things are coming our ways.
xoxo Courtney