*EDIT: The contest has now ended; thank you to all who entered! <3
The wait is over!
Fall is here and the Quiet City Etsy store will open later this week.
BUT FIRST, you can win a complete set of Quiet City postcards inspired by the music of
matt pond PA
by leaving a comment on this blog entry. In your comment just tell me what you like about fall, and you'll be entered in the contest. Enter before Wednesday, September 24 at 8 pm eastern time. I will use a random number generator on Wednesday after 8 pm to choose one winner. After the winner is selected, I will contact that person to let them know about the win.
If you do win, this is what you get: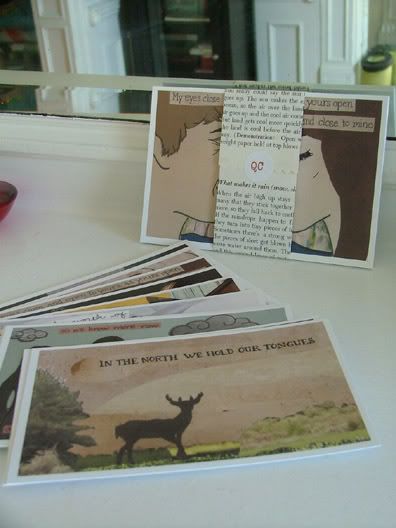 One set of ten 4"x6"postcards: the front is glossy and has a thin white border- and the back is suitable for writing. The back has a small label centered at the top with artist info for Matt Pond and myself, and is otherwise blank. Each of the ten cards is different; all of the images can be found within this blog if you are new to Quiet City. The cards are prints made from my original drawn collage works.
The set is packaged with a 2" band of paper cut from an old Parents Magazine publication called The Mother's Encyclopedia, and sealed at the front with a little sticker bearing the Quiet City initials. It's suitable for gift-giving or keeping, and mailing or... you know, keeping.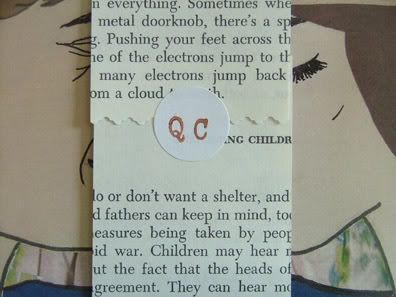 Good luck to all of you! And make sure to check back regarding my store opening.
Oh and if you don't win this contest, there's still hope! Due to human error (my own with the paper cutter, dang it!) I have some postcards I will not be selling but giving away as well. The images are perfectly fine but the labels came out less than perfect. Those will be given out a few times over the next couple of weeks.
Other than my Quiet City work today I ushered in the new season this morning by eating anadama toast for breakfast and looking up a recipe so I can try to make some of my own bread. I usually buy it from
this farm
in a nearby town. I washed it down with a nice mug of warm apple cider from
this orchard
in Auburn. I would have loved to take a walk with my husband and son to take in the beautiful Maine fall sweetness, but my son is fighting off a nasty cold and I didn't want the cooler air sneaking up in his tiny little congested nose! There will be other walks.
I'll be gushing more about fall this week and next (and probably the following few that follow) with pictures and dreamy ramblings.
See what other artistic and crafty bloggers were up to in recognition of the equinox by visiting Lisa's
Polka Dot Cottage
blog.
xoxo Courtney