My big brother is visiting this weekend from Brooklyn so he can go to the Halloween party at Captive Elements on Saturday. He's staying with us so I am cleaning today. My little brother (ok, he's not little- he's 24 years old and he's taller than me) will be spending some time with us tomorrow before they go to the party. I was going to help him make his mask but my mum let me know he already finished it! I was looking forward to working on it but I am also proud that he did something crafty by himself.
My latest Quiet City wall art piece has sold in
the shop
already. I will hopefully start making more than one piece every three weeks so I can keep up with demand. (That's a joke.) I still have four plaques left and some sketches in mind so my goal may not be too far off...
This is the last one I sold: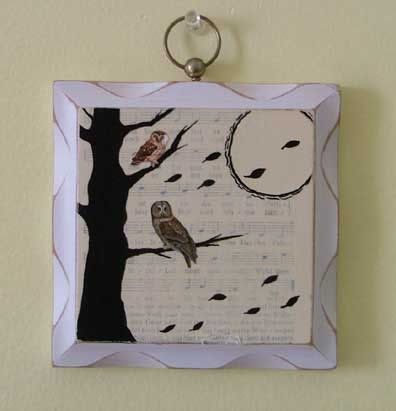 Materials: thrifted wooden plaque (sanded the egdes), page from a German hymn book, drawing ink, canceled postage stamps (that's where the owls came from) and acrylic paint.
I also would love to share with all of you what I have purchased from Etsy recently-ish. I am posting pictures I poorly took myself in bad lighting so please be sure to look at each of these shops.
This book is from
youbeandillbe
, who is actually my good friend Heather. We worked together at Half Price Books in Texas and I can tell you right now she is one of the sweetest and most beautiful (inside and out) people I have ever met. This notebook is bound by hand with an assortment of papers, so it makes a great little item to stick in your pocket in case a brilliant idea strikes you at an inopportune time, or you can use it to make letter-writing even more interesting. She has more available in her shop, so please click her link and check them out, as her photos of them are way better than mine!
Also, she has a shop announcement about her upcoming quilts. She made a quilt for my son before he was born, and it's seriously beautiful. I don't have any photos on hand of the quilt itself but I'll post one soon.
I picked up these adorable hair elastics from
CC's Little Boutique
. I love owls and I love tying my hair back, so it was meant to be.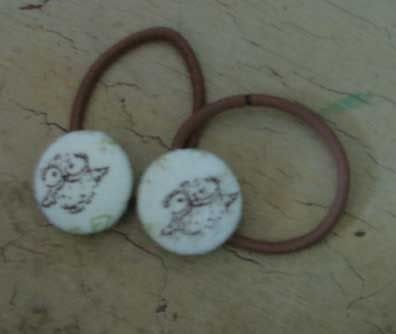 She has many more cute little ponytail holders with a variety of designs in her shop. Also, she ships really quickly and they arrived to me in no time at all!
I also ordered a print from Emily of
The Black Apple
. This girl means business, as she's one of the top Etsy sellers and has been on Martha Stewart Crafts. Martha Stewart, guys. That's intense. Emily's artwork is beautiful and I can't wait to frame this and hang it in my living room.
When this first arrived I had it propped up against its sturdy mailing envelope on top of the radiator casing in the living room. Once it caught my son's eye he would not stop grinning at it and pointing at it, which makes me officially confident in my purchase.
Last but not least I saw these deer earrings and had to have them. I favorited them and tried to stop obsessing but I was drawn in. They just arrived this week and I wore them for the first time yesterday. I LOVE THESE THINGS and you need to go to
Passion Flower
's shop to see better pictures. Because mine sucks. (I really need to learn more about the camera I use, and I need to take a picture of these on me.)
They are wonderfully lightweight so they don't tug your lobes down. They are just so delicate and perfect.
Ok, I should try to get some more cleaning done (blahhhhhh) and reward myself with a coffee afterwards. I hope you all have a lovely weekend. If you're in central/southern/western Maine don't forget about the Halloween bash at Captive Elements Art House in Lewiston. Visit them on
MySpace
or call 207-786-3606 for details.