Today my son and I took part in the 1st Annual Fall Arts and Culture Festival at Captive Elements Art House in Lewiston. For any of you in the area: keep your eyes and ears open for Captive Elements events. They are doing wonderful things for our community.
And please be patient with me now. I took a couple hundred pictures today. Here are approximately 95% of them. Ok, my math isn't great but you know. LOTS OF PICTURES AHEAD.
There was a karate demo from students and instructors at
Pelletier's Karate Academy
. Unfortunately I forgot I even had my camera with me until it was almost over.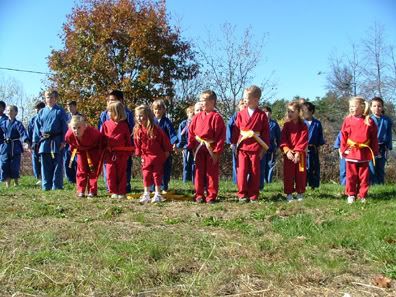 There was a giant Candyland game set up for the kiddies. This was magical and charming to me on so many levels since it was my favorite game as a kid. I hope they do it again next year when my son will be old enough to participate. Or I might just do it myself.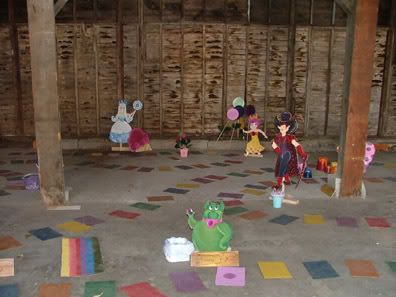 There was a pumpkin painting contest.
And a scarecrow making contest.
Resident metalsmith Hunter Matthews was set up to show us how he works. Hunter is also affiliated with the
New England School of Metalwork
.
(This anvil he works with is over one hundred years old.)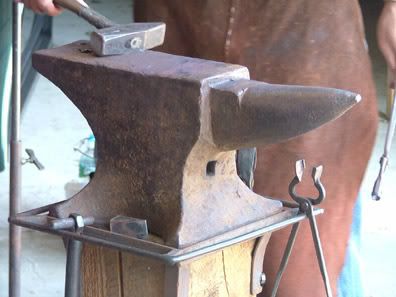 Sadie Landry was at her potter's wheel for a demo as well.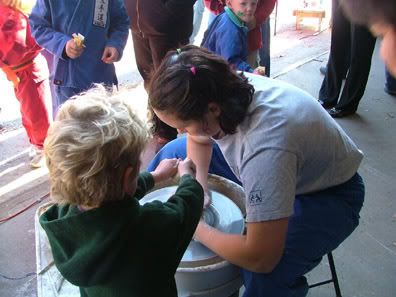 (With some help from her son.)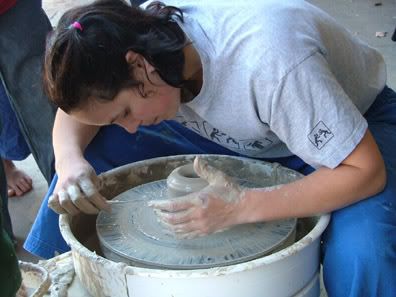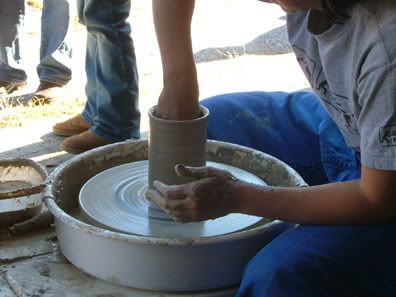 My cousin's daughters and I had some fun with the sidewalk chalk. The oldest, Krysta, snapped these pictures of me with my new chalky owl friend.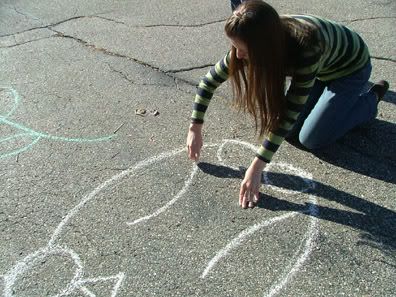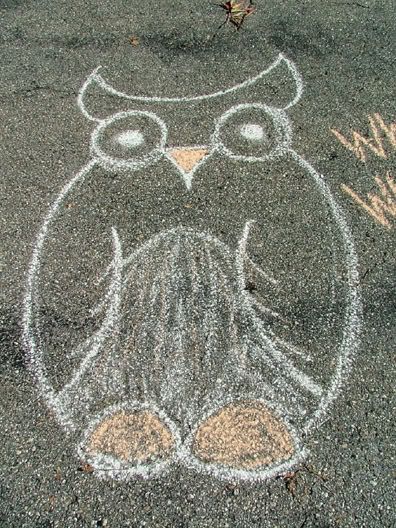 And... this is just really cute. Guess which one I think is the best, cutest pumpkin pictured here. (Hint: he's wearing a peacoat and I gave birth to him.)
Please visit Captive Elements
here
on MySpace. Their upcoming events are:
Halloween Gala
(adults only)
October 25, 2008
at Captive Elements Art House*
8 pm - 1 am
$10 cover/ $12 at the door
featured artist: Lena Toth

Art Auction to benefit art programs in Lewiston/Auburn schools
mid-November, 2008 (date TBA)
at Fishbones American Grill (Bates Mill on Lincoln Street, Lewiston)
6 pm - 9:30 pm
no cover charge
Celebration of Youth and the Arts in L/A
December 14, 2008
at Captive Elements Art House
1 pm- 4 pm
* Captive Elements is located at 25 Landry Road in Lewiston. To contact the gallery for hours of operation and more information, email captiveelementsah@verizon.net or call 207-786-3606 and ask to speak with Kerry Landry.