Phew.
I just finished the largest piece of artwork I have done since high school, sophomore year. TEN YEARS AGO.
This is acrylic paint, ink and paper on 16"x20" canvas. (I photographed it on my wall; please pardon the quality of this photo.)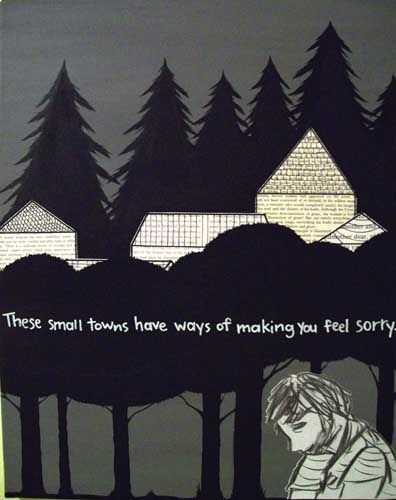 "These small towns have ways of making you feel sorry," is from the matt pond PA song "New Fall," which is on the 2000 album,
Measure
. I want to thank Matt Pond for giving me the ok to continue drawing inspiration from his lyrics and using them in my artwork.
The drawing in the bottom corner is a print from a charcoal sketch I did two years ago. My husband was the model. I have been wanting to do something with that sketch this whole time, and I finally found its purpose. The rooftops are cut from pages of various books I've collected for the purpose of collaging- an old religion book, a home improvement book, a 1960's university yearbook, and a 1970's children's reading textbook.
This piece will be on display at the Captive Elements Art House December show in a week and a half. I'm getting really, really excited.